Welcome To SEWU Online
December Agenda.pdf 2017 Meeting Schedule.pdf
SYSTEM-WIDE EXPANSION
PLEASE HAVE PATIENCE WITH US THIS FALL AS WE ARE TRYING TO ADD ON AS MANY NEW CONSUMERS AS POSSIBLE. NEW LINES ARE BEING INSTALLED AND THE CREWS NEED TO FLUSH THEM OUT AND BEGIN START UP FOR NEW CONSUMERS. THERE WILL BE TIMES OF OUTAGES AND WE ASK YOU TO HAVE PATIENCE AS WE DO NOT KNOW WHERE OR WHEN THESE HAPPEN SO WE CANNOT NOTIFY ANYONE AHEAD OF TIME. PLEASE JUST KNOW THAT WE ARE DOING EVERYTHING POSSIBLE TO KEEP THE WATER FLOWING WITHOUT TOO MUCH INTERUPTION OF SERVICE! PROGRESS SOMETIMES MEANS A LITTLE PAIN ALONG WITH IT, BUT WE HOPE THAT YOU UNDERSTAND AND WE APPRECIATE YOUR COOPERATION FOR THE BETTERMENT OF YOUR NEIGHBORS!!

Pictures of the assembled meter package & the actual water meter with instructions for the New Expansion Members!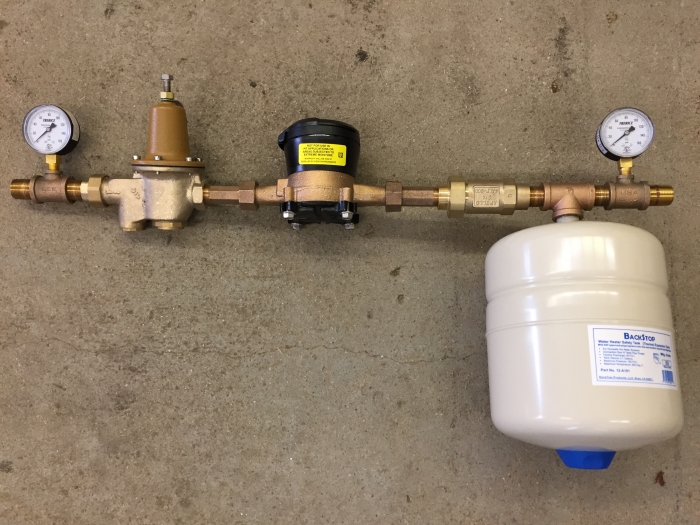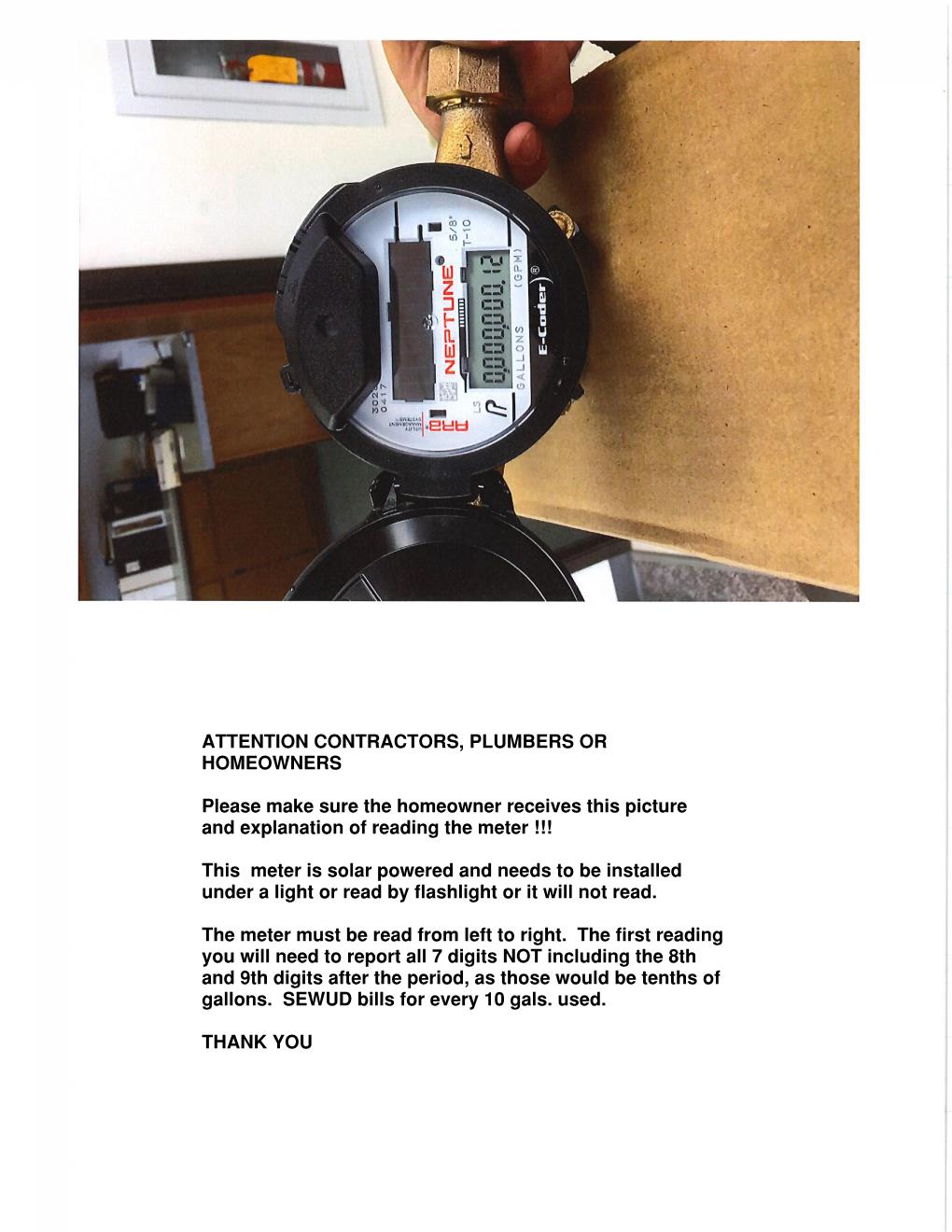 The System-Wide Expansion is closed. We are however, still taking names of people that would like to have rural water for a list we are compiling, that would be the first ones to be notified should there be any "extra dollars" left after the expansion bid dates and we are also working on applying for more grant dollars. There are new requirements for these additional sign ups: that a residential hook up must be within a mile of an existing or a proposed water line. Also Pasture Taps must be within the 2,000 foot distance or that plus a cost/share program. You will need to call the office to see if your location will qualify. If either one of the options of obtaining more money become realistic, we will be calling the people on that compiled list. SEWU has people who are working on easements and are very busy trying to set up re-visits to have easements signed so we can install water lines. This is a vital part to any project and we appreciate all of you who have signed already and those of you that will be signing in the near future. Without easements, the job of installing water lines becomes non-existent in some locations, so they are an integral part of the Expansion. The engineers are busy staking out the lines going into yards. Once again, they will be running water to within the 75' mark and installing a curbstop (shut-off) at that point. It will be up to the homeowner to install from that point to their home. We will supply a meter for your use, as that is part of your Membership Fee but you will have to come to the main office in Mantador to pick up your meter assembly. You may have a certified plumber install them as we are NOT plumbers here at SE H2o. We will notify you once the water is ready to be used and you will have approximately 90 days to install into your home. If you need help lining up contractors for that purpose, we have a list available at the office or is also available here on the website under Membership. As always, if you have any questions about the System Wide Expansion or anything else regarding rural water, please give us a call here at the main office and someone will be glad to help you.

SE H2o - East
One word describes the East division of SEWU - BUSY!! The Expansion is keeping everyone on their toes. There are people out knocking on doors and asking for easements for the the new Expansion project. We appreciate your cooperation in this matter as it is an integral part of getting rural water to a number of people. Line installation has begun in Richland County. The engineers are staking new lines into farmsteads. Remember to call the office if you are still interested in receiving rural water!!
Please remember that we need a new meter reading each and EVERY month or the computer automatically issues an average (yearly avg.) for the month and assesses a $5 penalty for no reading. For those of you who do Direct Pay or Auto Pay by Bank and those of you who send in E-checks, we need those readings around the 15th of each month as billing is done at different times every month.

SE H2o - Central
Paul, the field operator here, is busy working on a few line leaks and also helping with the other 2 areas of SE H2o. We always ask for your help as you are the eyes out there on the water system. If you see water sitting or pooling in unusual spots, please notify us and we will check them out. Farmers are the best at noticing as they know the land like the back of their hand and are quite informative when it comes to sitting water. Technology is great but only goes so far!

There are also some areas here where we are out asking for easements regarding the new Expansion project for installing rural water. Again, this is an integral part of the expansion and without the help of land owners signing easments, we have a tough time reaching some people with the quality water they want. If you have any questions concerning these easements, please call the office so we can resolve any issues you might have.
SE H2o - West
Troy, the field operator in this area of our system is busy keeping water lines flowing and trying to keep up with consumer issues.

Troy is now busy out reading the Pasture Tap meters that have been used for watering livestock or spraying etc. for this year. Each Pasture Tap is billed one time per year. That bill will be coming in December of 2017. Pasture Taps are billed at a rate of $10/month ($120.00) plus any usage times the rate at $3.50/1,000 gallons.

As in every district, please keep in mind that we strive to keep our consumers happy, so if you have a problem, please feel free to call the office so we can try to fix the problem!