Welcome To SEWU Online!

NEW BILLING CARDS DO NOT HAVE A METER READING BOX ON THE REMITTANCE STUB THIS MONTH! PLEASE JUST WRITE YOUR READING ON THE STUB ABOVE YOUR NAME FOR THIS MONTH AND HOPEFULLY NEXT MONTH THE READING BOX WILL BE PRINTED AGAIN!!! SO SORRY FOR ANY CONFUSION, BUT BARE WITH US AS WE TRANSITION INTO A NEW BILLING SYSTEM...THANKS FROM THE BILLING STAFF AT SEWUD.

ATTENTION!!!
SEWU IS PLEASED TO ANNOUNCE THAT WE HAVE BEEN AWARDED A GRANT BY THE ND STATE WATER COMMISSION OF $11.79 MILLION FOR THE IN-SYSTEM EXPANSION !!!


This may be your last opportunity to receive rural water in your area from a project such as this. We are now asking for a good intention fee of $100 (applied to your connection fee) to have your site plotted on the new maps.
Please take note as new guidelines are in effect for the sign up. The sign up fee will increase to $1,500.00 after April 30, 2016 and $3,000.00 on August 1, 2016, so time is of the essence.
There are forms available at the office 701-242-7432 or 800-400-8888 or here in PDF format.
This study will end soon so if you want to be considered in this expansion, you need to get your form and fee in soon! If you know of friends or neighbors who would like to be considered, please let them know as "word of mouth" is the best notification of upcoming details!!
42ND ANNUAL MEETING HELD IN EDGELEY




The annual meeting for SEWUD was held on Wed. March 16, 2016 at the

Hakuna Matata meeting room. It was a fairly nice day for the meeting and we had a nice group of people attend. The meeting began at 1:30 sharp with President Sandra Rupp welcoming honored guests and staff. Comptroller, Don Lingen gave a report on the financial status of SEWUD and explained the budget for the year 2016. General Manager, Steve Hansen gave a number of reports, including the announcement that the ND State Water Commission approved grant reimbursement funds totaling more than $11.79 million for the system-wide expansion project. Hansen also thanked his staff for their dedicated work thoughout the year. He then introduced Brian Bergantine of AE2S who thanked the Board of Directors for their continued support over the years with his engineering firm. Chase Julsen of AE2S then gave a presentation on the new In-System Expansion beginning later this fall or first thing next year. Door prizes were awarded and coffee, lemonade and cookies were enjoyed by the attendees. In the picture below, Director Chuck Glynn is presented with a gift from SEWUD for 25 years as a director. Please view more pictures at Photo Gallery.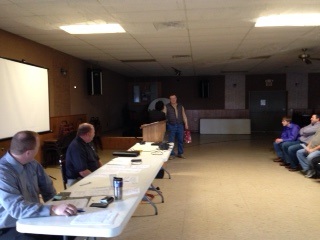 SE - East
BUSY, BUSY, BUSY! That's what is going on in the all three divisions of the Southeast Water Users District.
Service calls are always #1 on our list! If you are having any problems, please don't hesitate to give us a call so we can rectify the situation if it is something to do with our meter packages or water quality. Remember that the "meter package" is from shut-off valve to shut-off valve, inclusive. Anything before or after is up to the homeowner. Again, please call if you are having problems. We cannot fix anything if we don't know about it!
SE - Central
Same thing goes in the SE -Central division as Paul is working at new additions and mapping. This is always a long and tedious process, but the field operators are working with AE2S, our engineering firm, to make sure that new maps are made so that we can keep track of where the water lines are.
Paul is also busy helping co-operator Troy from the west division, doing some repair work on some pumps and cleaning of the tanks. It takes 2 operators to accomplish these things and Troy and Paul work together quite often.
SE - West
Same here. Troy is very busy with a number of new hook-ups and also trying to implement the new policies regarding Pasture Taps and the new guidelines on Shop Taps. He will be trying to replace as many of the old Pasture Tap meters that have become Shop Taps with new meter heads that will have a remote to read as a convenience for the consumer. This will take 2 - 3 months, so please bare with us !
It is always hard when change happens, but if you have a question or complaint, please call the office so we can help you!! It doesn't do any good to complain if you don't talk to the right people and we like to try to keep everyone informed with the right information, so don't hesitate - give us a call!