Welcome To SEWU Online
Jan Agenda.pdf Yearly Meeting Schedule.pdf
NOTICE

Southeast Water Users (SEWU) wants to let its members know that American Water Resources of ND has started an informational mailing campaign as some our members have received a mailer offering a water line protection program. This company has no affiliation or endorsement from SEWU. SEWU covers all cost of repair of water line up to the curb stop on your property. Any water line after the curb stop is the homeowner's responsibility for any repairs. If you have any questions about what water lines are covered by SEWU, feel free to give our office a call at 701-242-7432 or 800-400-8888 (in ND only).
Please note that our new Payment Service is finally available. The Make a Payment quick link shown at the right is where you will go to set up your account with us. That is a one-time registration and will be used in all future payments you make with us IF you use the site. Please note that you will only need your PIN# (KEY #) for registration and not your account #. There are a number of ways to pay your bill and a lot of information available for you to view. There is also a place where you should be able to enter your meter reading at the same time. For those of you who are already signed up with Auto Pay/Direct Pay with us, you may enter your meter readings here, opt out of paper bills and receive an e-mail billing, check usage charts etc. with a registered account. Please take the time to give the PSN site a look to see what it can do for you at your time and in the comfort of your own home any time day or night! If you have trouble with anything at all, please either call PSN at their number on their site or give us a call here at the main office at 701.242.7432. PLEASE NOTE THAT IF YOU DO NOT HAVE ACCESS TO A COMPUTER, CALL AND WE CAN DO THE TRANSACTION FOR YOU OVER THE PHONE ON AN INDIVIDUAL BASIS.

IN-SYSTEM EXPANSION
Some of you will be receiving your first water billing in the mail. The first month all we need is your meter reading by the 15th of June. IF you are not hooked up yet, you will need to call the office and let us know.

The In-System Expansion is progressing well this construction season. 2 crews have been going strong since they began. 1 crew is
working from the east part of the system to the west. The second crew has been working from the west and is now approaching the
James River area. We are expecting to get as far west as the LaMoure/Ludden area this construction season. The remainder of the project will be started by next year's, 2019 construction season.

Once the curb stop is set in your yard, they need to flush the line and send in water samples to the lab, At that point, we need 2 samples that pass their test and then the office is notified here and we will send out a "Water Ready Letter". You may NOT dig in the line or hook up the water until you receive a letter or a verbal transmission from this office! We need to have confirmation that your water is safe for consumption.

Pictures of the assembled meter package & the actual water meter with instructions for the New Expansion Members!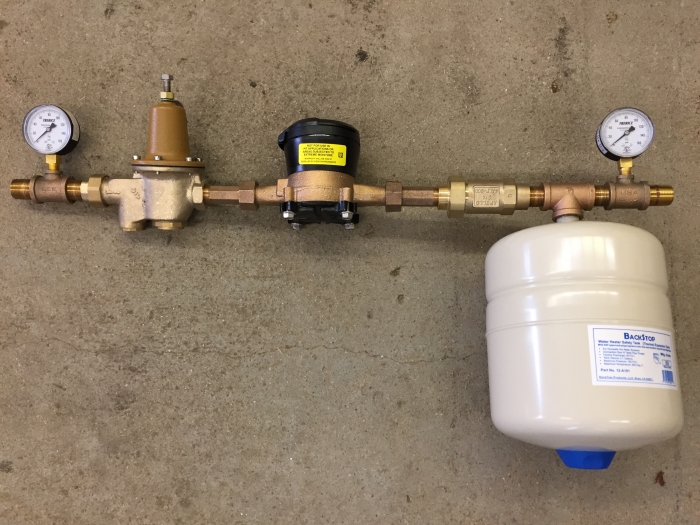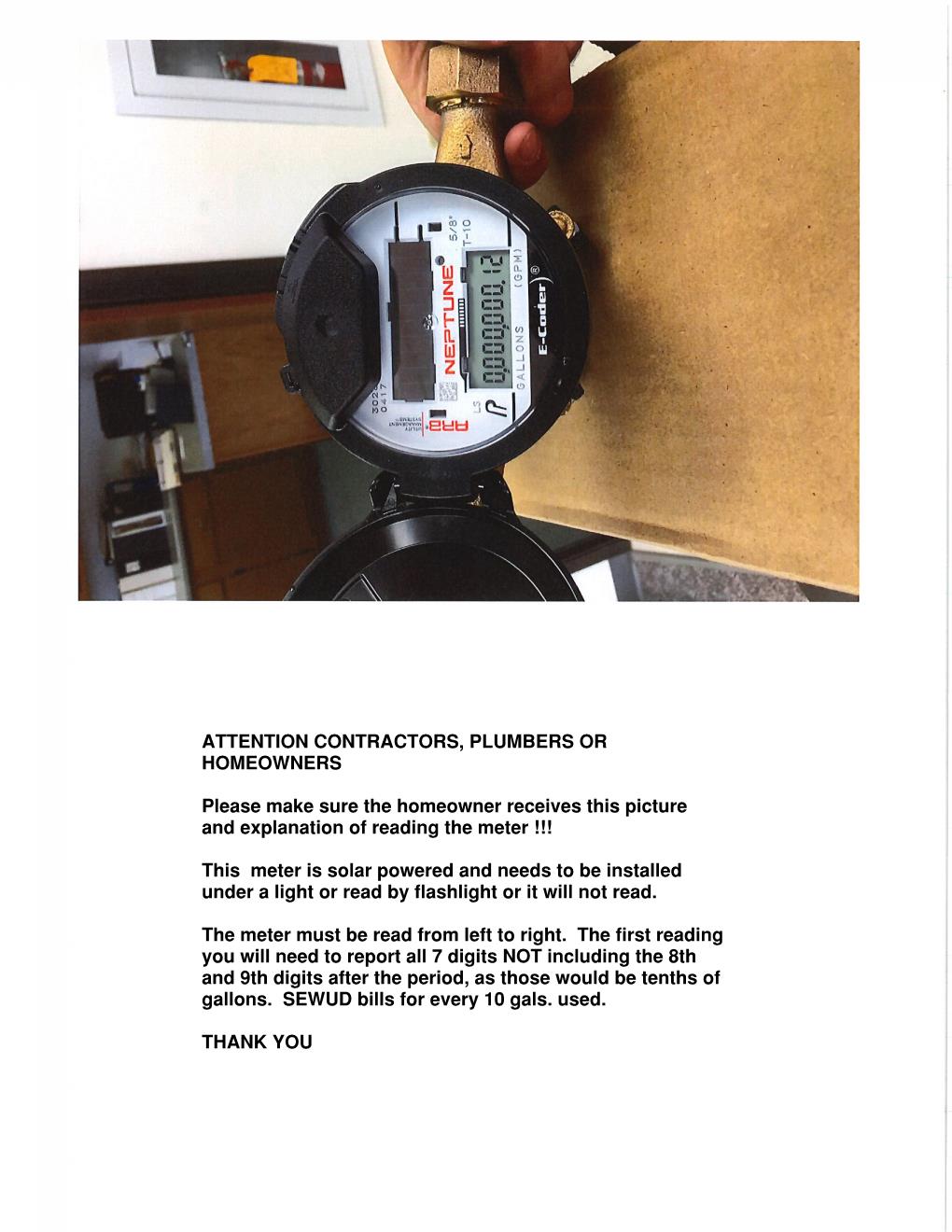 SE H2o - East
One word describes the East division of SEWU - BUSY!!

Once again the expansion contractors are at work & installing water lines. You will be notified by a letter from the office when water is potable & ready to use.
Some new payment methods have been added to the website as you can see on the right side of this front page call Make A Payment. PSN is a new payment service for you to use at your discretion. Take a look to see what is offered - we think you will like what you see! As always, if you have any questions, please let us know.

Please remember that we need a new meter reading each and EVERY month or the computer automatically issues an average (yearly avg.) for the month and assesses a $5 penalty for no reading. For those of you who do Direct Pay or Auto Pay by Bank and those of you who send in E-checks, we need those readings around the 15th of each month as billing is done at different times every month.

SE H2o - Central
Paul, the field operator here, is busy working on a few line leaks and also helping with the other 2 areas of SE H2o.

Contractors are also working in this area of the In-System Expansion. Please have patience with us as we hook up new people onto the system and this at times, reguires us to shut water off for a bit to allow the tie-in to happen and to flush new lines.

There are also some areas here where we are out asking for easements regarding the new Expansion project for installing rural water. Again, this is an integral part of the expansion and without the help of land owners signing easments, we have a tough time reaching some people with the quality water they want. If you have any questions concerning these easements, please call the office so we can resolve any issues you might have.
SE H2o - West
We are also adding on some new customers, so please be aware that they may be some short outages while we tie them into the current water line. Also have some people in the area who are looking for easements that are needed for new sign ups under the In-System Expansion in your area. We appreciate all your help in these matters as it is not possible without your help.

As in every district, please keep in mind that we strive to keep our consumers happy, so if you have a problem, please feel free to call the office so we can try to fix the problem!